« Back To Blog Home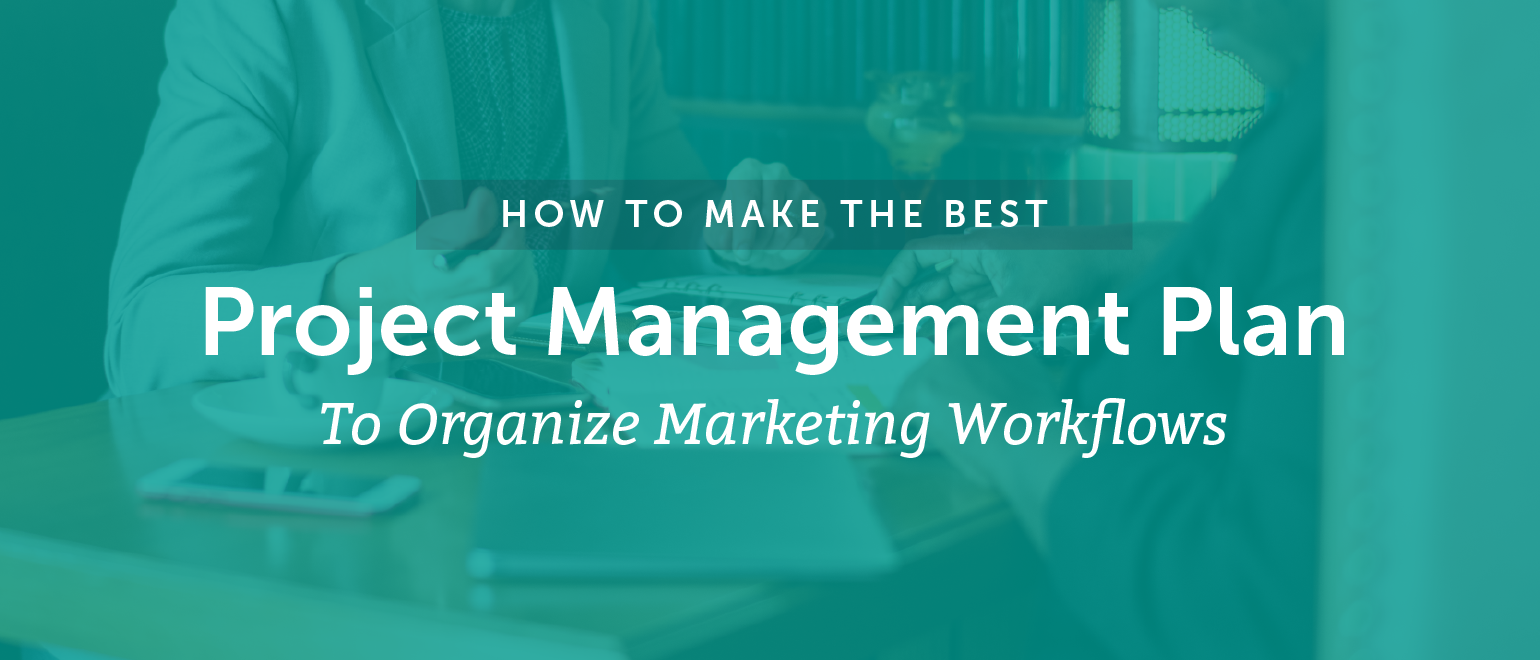 Project management can be intimidating at first. As marketers, we are often more comfortable executing work, rather than managing how it gets done. If that sounds like you, you'll need to develop new skills to keep our teams and processes organized.
There's a lot to learn, too. Planning project phases, allocating resources, and overseeing workflows is challenging. It's worth the effort, though, and developing strong organizational and leadership skills is invaluable.
Think about it like planning a trip. You need to know where you're going before you start driving, right? Otherwise, you're liable to get lost and waste time. The same applies to marketing campaigns, too. If your goal is the destination, then you need a guide on how to reach them.
That's where project management plans come in. They're your roadmap toward success, helping teams visualize how to achieve success, from start to finish. Best of all, they don't have to be difficult to document. Follow this guide and learn:
How to map marketing timelines from ideation to measurement.
What makes checklists so valuable for keeping projects on track.
The best way to develop processes that build consistency into your marketing operations.
By the time you're done, you'll be coordinating projects with the best of 'em.
Start With Your Free Marketing Project Management Plan Template
Project plans include a lot of details and moving parts. To keep everything documented and organized, snag this free template. It'll make putting advice into practice much easier. Plus, you'll also get a free project management calendar and checklist template to help plan deadlines and track project progress.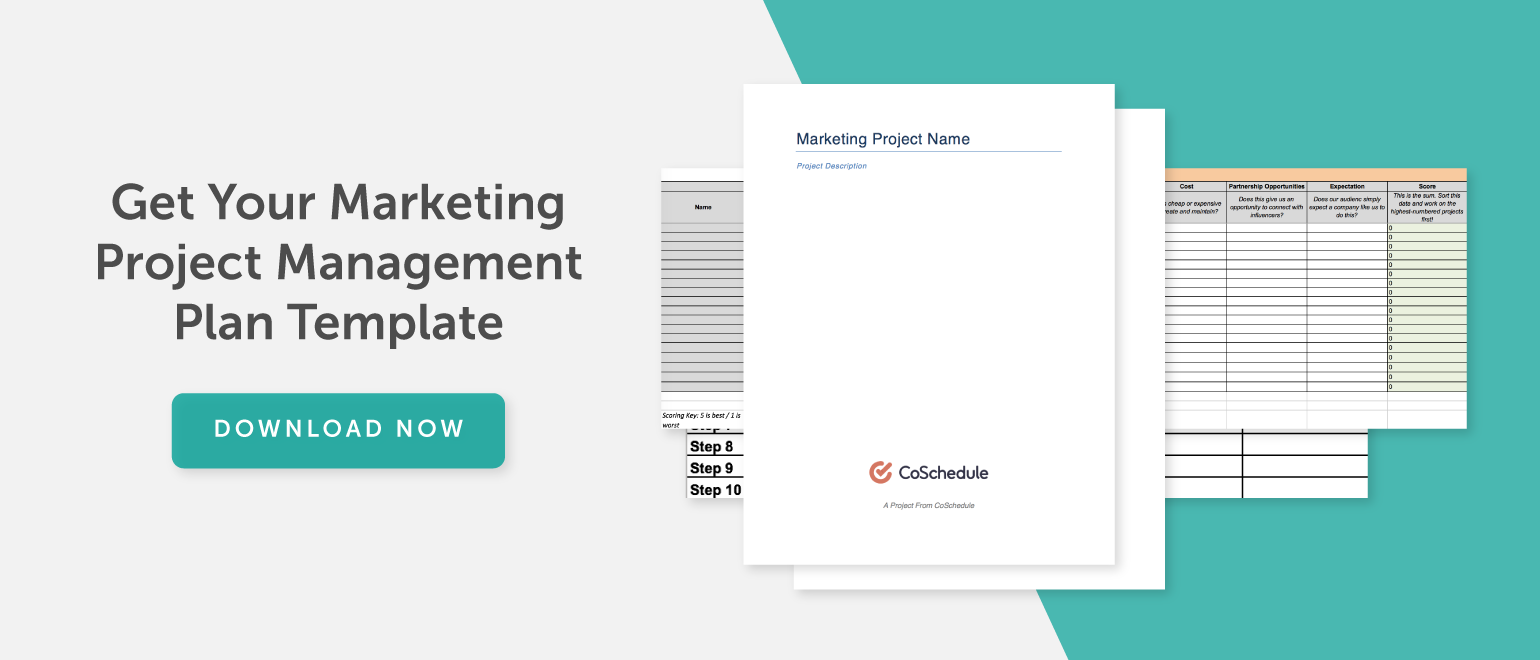 What is a Project Management Plan (and Why Should Marketers Care)?
This post will work with the following definition:

Time spent planning yields significant benefits. Consider these statistics:
These findings can teach us a few things:
Failure to plan is planning to fail. Without proper project management processes in places, things tend to not get done.
Marketers need to prioritize the right projects. Lots of companies spend more time looking busy than delivering value. Marketers aren't excluded from this trap, either.
Reviewing results is key to long-term success. When things go right, it's important to understand why they worked. This can help you build repeatable processes to duplicate positive results again and again.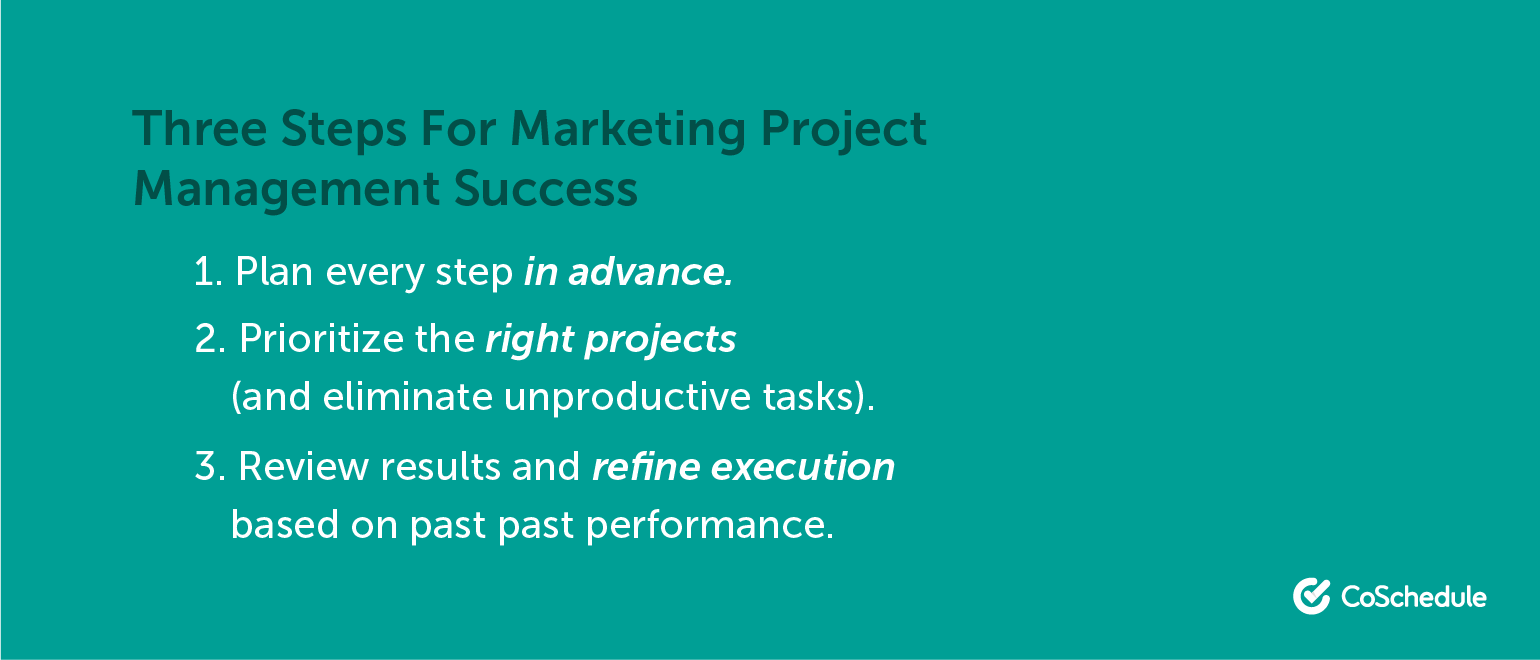 First, Validate Whether the Project Is Worth Executing
It's easy to spend a lot of time looking busy. However, doing work that drives results is much more difficult. Unfortunately, marketers often spend too much time on non-essential tasks that distract from doing meaningful 10X work.
Answer these questions before moving forward:
Is this project part of our overall marketing strategy? If not, then what is its purpose?
Will completing this work result in achieving our goals? What will this project help accomplish?
Would our time be better spent on something else? If the answers to questions one and two aren't clear, this third question is worth considering.
Once you have the green light to proceed, continue onward.
Create a Simple Creative or Project Brief
It's easier to visualize success when your team knows what it needs to produce. A simple project brief should include the following:
A description of the project: What does this project need to look like when its done?
The objective or goal: Why is this project being completed?
A rough estimate of how long it will take: Do you have a rough estimate for how long this project will take?
This doesn't necessarily need to be complicated. What's important is that everyone working on the project understands what the team needs to achieve.
Tip: While this section should come first in your plan, you may need to write it last. That's because you'll determine timelines in a later step.

Next, Understand the Three Elements of Successful Project Planning
Project management plans form the bedrock of successful workflows. When everyone knows what needs to be done, completing work on time becomes easier.
There are three essential elements every project plan should include:
Project Phases: What does this project look like when mapped out from start to finish?
Tasks and Steps: Team members will need checklists to ensure no steps are missed.
Available Resources: Who will complete each step? How much budget will they receive? Will they need other assets?
Planning Project Phases
How many phases will the project move through from ideation to execution? That's what you need to figure out first. For a marketing team, this may look like this:
Ideation: A campaign or project will need an idea. It may start with a brainstorming session.
Research: Next, the team will need to do research. This may include uncovering keywords, interviewing customers, or other steps relevant to the project.
Execution: Now, it's time to actually do the work.
Measurement: Did the project meet its goals?
Retro: What went well? What went wrong? How could the process be improved to ensure success next time?
This is a hypothetical example, of course. But, you get the idea. From start to finish, define every phase of the project.
How can you figure out your own project phases? Start with some simple questions:
What is the first thing your team needs to do? Identify the first thing that needs to be done, before any other work becomes possible.
What is the most logical next step? In some cases, this will be obvious. For example, writing comes before design or development.
How can we minimize steps and still complete the project? If there are phases that don't add value, cut them out.
By the time you're done, you should have a clear overview of your project phases.
Recommended Reading: Why CoSchedule is the Best Project Management Software for Marketer

Listing Tasks and Steps
Each phase will likely require multiple steps to complete. Using the example project phases above, you might have the following tasks under ideation:
Review brainstorm notes.
Read through audience persona.
Browse competitor's content.
Conduct keyword research.
Create an outline.
This includes all the steps for the first phase of the project. Duplicate the process to create checklists for the following phases, too. Eventually, you'll have every task for each phase mapped out.
Allocating Resources
Marketing departments often operate under constraints. This could mean limits on budgets, tools, or team members.
The goal: figure out the best way to complete the project with your available resources.
First, you need to determine who will complete each step, during each phase. In some cases, this may be obvious.
Writers write. Designers design. Coders code.
But, if you have multiple team members performing each role, you'll need to think through their assignments. Follow these steps:
Assess who is available on your team. Review your marketing calendar or upcoming projects to see who has availability.
Assign the best fit to each task. If someone has a particular talent or strength in a given area, give them the tasks they'll excel at.
Next, make sure everyone has the resources they need to succeed. This could include:
Budget. This is particularly important at agencies, where time literally equals money.
Tools. Do they have the right software to finish this project? Is it time to consider adding new tools?
Time. How much availability do team members have? How urgent is the project? When is your deadline.
Identify the Scope of Your Project
This step entails creating timelines and setting deadlines. Without effective scope management, projects can expand out of control (this is commonly called scope creep). That leads to missed deadlines, busted budgets, and other un-fun problems.
Estimate How Long Each Task Will Take
The best way to accurately estimate time is to track how long work takes. You can do this using a time-tracking tool like Toggl. Their basic plans are free, and it's easy to use. Have each team member follow this process.
1) Create a Toggl account. Then, create a new Project:
2) Add all your team members:
3) Have each team member time their work using the Toggl web, desktop, or mobile apps:
Over time, this will help team members estimate time more accurately. Start with rough estimates for now, then lean on your data to better assess how long work will take.
List Necessary Tasks for Every Step and Team Member
Go through every phase in your project and list every single step.
Ideation:
Conduct brainstorming meeting.
Sort through potential ideas.
Refine concept.
Research:
Review brainstorm notes.
Read through audience persona.
Browse competitor's content.
Conduct keyword research.
Execution:
Create an outline.
Write first draft.
Review and edit.
Revise draft.
Hand off for graphic design.
Review design.
Optimize for search engines.
Schedule publish date.
Measurement:
Gather data using Google Analytics and other reporting tools.
Analyze data to extract meaningful insights.
Prepare report and share findings.
Retro:
Review what went well.
Review what went wrong.
Plan action steps to improve next time.
Do This With CoSchedule: CoSchedule users can create reusable project checklists with Task Templates. See how they work.
Set Deadlines According to the Time Required
Once you know how long each step will take, it's time to set deadlines. Go back to the earlier example demonstrating how to plan a piece of content. Here are those steps one more time (with time estimates added):
This adds up to sixteen hours of total work. Using a marketing calendar, mark off an appropriate deadline. For the sake of example, let's say this project needs to be done in two weeks. That's a reasonable amount of time, considering the team will have other projects, too. This means that starting from Sept. 10, the deadline would be Sept. 21 to leave enough time for everyone to finish their work:
Turn Your Tasks and Deadlines Into Checklists
You can build these checklists any way you like. What matters most is that use checklists at all. Science has proven they're extremely effective for ensuring even the most complex projects are completed correctly.
In fact, the famous surgeon and author Atul Gawande wrote an entire book on this subject. Titled The Checklist Manifesto, it shows how powerful they can be (and in the operating room, they can literally save lives). He was concerned that advances in medical technology hadn't made surgery safer. And what helped most? The humble checklist.
If your marketing projects are consistently going off the rails, they may be the magic bullet you need. After all, if they're good enough for surgery, they're good enough for marketing.
One possible checklist creation option is Evernote, which works well for teams thanks to its collaborative nature (it also integrates with CoSchedule).
Simply create a shared note (and consider creating a notebook for each project). Then, as you list each step, use a pair of brackets [ ] before each step:
This will automatically turn each set of brackets into a clickable button:
Continue until you've built an entire checklist.
Alternately, CoSchedule's Task Templates make this easy as well. Create a project on your CoSchedule calendar. Then, under Tasks, click the Task Template Picker, then New Template:
Next, give your checklist (Task Template) a name:
Now, add each step, assigning default team members and timelines:
When you're done, click Close. This will save the checklist so you can use it again in the future. Busy project managers, editors, and supervisors will also appreciate this: clicking each step will indicate project progress status automatically.
Look at this quick example Task Template. Since the first item of four is checked off, CoSchedule displays the project as 25% complete:
This figure also displays on the calendar. The benefit? You can visualize project progress across your entire marketing calendar at a glance:
Put Together Timelines Mapping Out Each Phase
Next, place each phase onto one contiguous timeline.
Create a Marketing Campaign in CoSchedule to visualize the entire project on the marketing calendar. When you select a day on your calendar, this will be the first available content type:
Then, add each project on the calendar to the campaign. To do this, click into the project, then click the Marketing Campaign Manager button at the bottom (it looks like a folder):
Next, click the pencil near the top to edit your campaign and add an end date:
When you're done, the campaign will be visible as a horizontal color bar across the calendar. Each campaign will have its own color bar (determined by your chosen color label):
This is an easy way to keep the entire process organized. You can see every project and campaign, along with their completion status, in one place. The benefits: full transparency, tons of saved time, and less project management stress.

Now, It's Time to Execute Your Plan
So far, you've set up everything you need to execute the project. Now, it's time to manage the process from start to finish.
Track Project Progress
As your team works through the project, make sure they're hitting their deadlines.
You can do this by scheduling regular check-in or scrum meetings (if you use agile processes).
Set up a recurring meeting (either daily or weekly) using Google Calendar. If you're a CoSchedule customer, you can also integrate your account with Google Calendar, so your meetings will appear alongside everything else.
In each meeting, ask the following questions:
What is everyone working on today? The team's answers should match your calendar.
How is each project progressing? You should be able to see this on the calendar, too. But, direct communication is good, to ensure everyone is on the same page.
Are there any roadblocks? If there are problems preventing the project from moving forward, raise those concerns now. Then, figure out how to solve them.

Maintain Team Communication and Collaboration
As the team continues its work, make sure everyone is communicating clearly. It helps to have the right tools for this (rather than relying on email. Here are some options:
Slack / HipChat: These are both popular chat apps, and odds are, your company uses one of them.
CoSchedule: Each projects features a Discussion Thread. These make it easy to keep notes, trade files, and organize communication.
Walking across the office. Sometimes, old-fashioned face-to-face conversations are best. Make sure to note anything important that you don't want to forget.
Gauge Team Productivity
If your plan is effective, everyone should be hitting their deadlines, and the project should be completed on time. But, it's important to make sure this is actually the case. Assume nothing!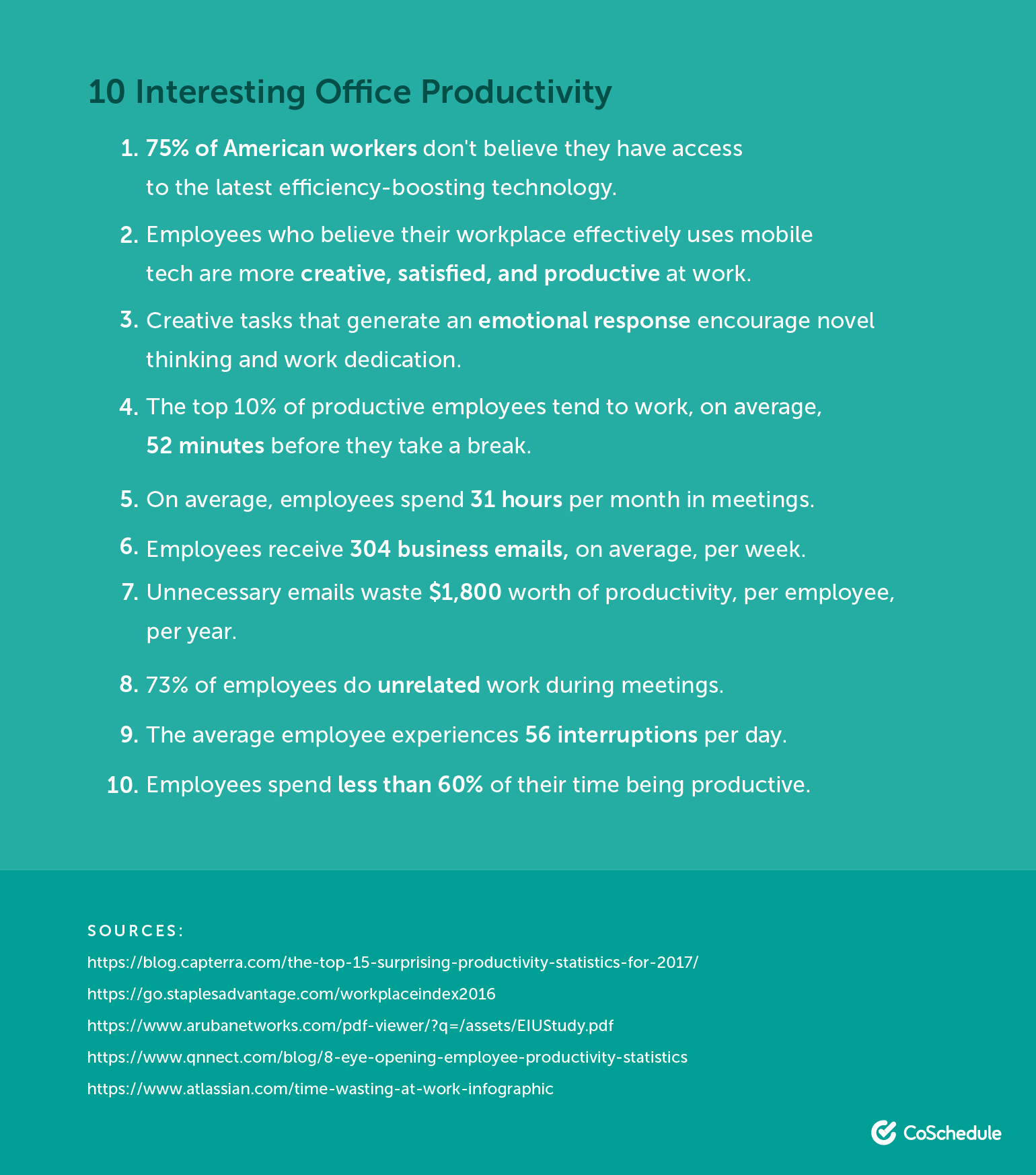 The consequences of poor project planning and workplace structure are clear. It literally costs companies money.
So, each day, make sure all project deadlines are being met. If they're not, and no one has volunteered to explain why, seek out the individual falling behind. Then, ask if there's an issue, or if they simply couldn't get the work done on time.
The key to keeping these conversations productive is to keep them limited. That means both in time elapsed, and in overall number. Don't take people's time unless there's a real reason to do so.
You can also do this with CoSchedule using Team Performance Reports. Each time an item on a Task Template is checked off, it tracks whether it was done on time, or not. The report then displays each team member's percentage of tasks completed on time:
Document the Plan and Keep It Organized
To make sure every project is effectively executed, it pays to document your plan. If you haven't grabbed it yet, be sure to download the project management plan template included in this post (click here to find it). Now, you're ready to effectively manage every project your team will take on.
That's a Wrap
Now you're ready to master project planning